Cap'n Jack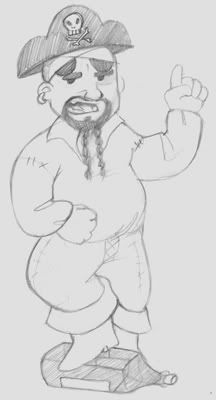 Background
Notorious pirate of the shores of Lamascus (or so he leads everyone to believe). Famed for his skills as an alcohol smuggler, and his stylish eyepatches. Due to a dirty deal involving poisoned alcohol and a lie by Mountainbeard, had a vendetta against Werric. The Crimson Strand used this vendetta against their former partner by using Cap'N Jack to lead a cannon assault on the town of Buildar. Like most of Werric's enemies who don't end up dead after an initial confrontation, the halfling Sheriff recruited Jack to become a member of Buildar's army. The former "beach pirate" now guards the southern and western riverbanks of Buildar with his Fishboy brigand, and is finally becoming accustomed to being a sea pirate… even if his sea be a river for now, Cap'N Jack plans one day to get out to the ocean.
Status
Living
Residence
The river (INSERT NAME SOMEONE-thanks Mike!) outside of Buildar.
Occupation
River pirate and guard of Buildar. Former bootlegger, though his experience with being poisoned has soured not only his body but his desire to make that profession his only means of income.
Allies
His Fishboys
Oddly enough, Werric
Fellow guards of Buildar
Enemies
Former traitorous fellow pirates who threw Jack overboard… and gave him a fear of water.
High society types.
Long-term Goals
Conquer his fear of water and return to his rightful place as captain of a pirate ship far off in the sea.
Short-term Goals
Learn to swim.
Appearances
page revision: 6, last edited: 05 Dec 2008 01:44